Next-Generation iPhone with LTE, NFC, and 1 GB RAM Reportedly Still in Engineering Testing
Disputing a report from last weekend claiming that Apple has begun production on the next-generation iPhone, BGR now claims that the device is still in engineering testing and has yet to enter production.
Apple goes through multiple stages before a product is manufactured, and two of these include the "engineering verification test" stage and the "design verification test" phase. Apple's sixth-generation iPhone is currently in the EVT3 stage, the third revision of the engineering test stage, and has not yet entered the DVT stage.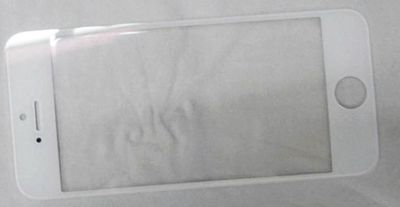 Claimed front panel from next-generation white iPhone
The report also claims to have confirmed several hardware details on the forthcoming iPhone, including the unsurprising inclusion of LTE connectivity, a bump to 1 GB of RAM from the 512 MB found in the iPhone 4S, and near field communication (NFC) technology that could significantly
enhance the utility
of Apple's
Passbook
app for iOS 6 unveiled last month.