Non-Retina Mid-2012 MacBook Pro Torn Apart
It's been a busy week of Apple teardowns for iFixit, with the firm announcing today that it has completed its work on the non-Retina version of the Mid-2012 MacBook Pro.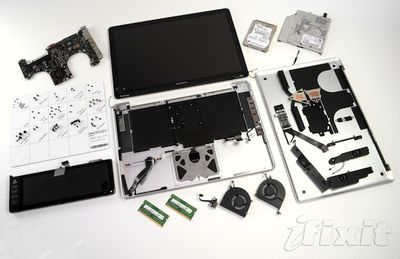 Given that the non-Retina version has retained the same form factor for a number of years, there are few changes to the internal layout of the components, but a fresh look inside now that the redesigned Retina MacBook Pro has been released offers some interesting comparisons of how Apple is working to reduce the size and weight of its machines.
In particular, iFixit focuses on the hard drive and RAM differences between the two machines, noting that the proprietary solid-state drive used in the Retina MacBook Pro measures only 3.16 mm thick compared to 9.45 mm for the traditional hard drive in the non-Retina version. On the RAM side, Apple has soldered the chips directly to the logic board in the Retina MacBook Pro, while the non-Retina version still retains removable RAM modules in a stacked configuration measuring 9.15 mm thick.

Logic board of non-Retina Mid-2012 MacBook Pro with CPU (orange), NVIDIA graphics (red), and platform controller hub (yellow)
While the Retina MacBook Pro received iFixit's lowest repairability score ever for a notebook at just 1 out of 10, the non-Retina version receives a score of 7 for its use of mostly-standard screws and its easily-accessible battery, optical drive, hard drive, and RAM. But as evidenced by the popularity of the MacBook Air and the strong reception to the Retina MacBook Pro, repairability and upgradability appear to be taking a back seat to size and weight savings in the minds of consumers as Apple pushes the envelope with highly-customized components fabricated to meet the company's design goals.