'Apple Store' iOS App Gains Support for Express Checkout, Advance Check-In for In-Store Pickup
Apple today rolled out an update for its Apple Store [App Store] app for iOS devices, adding two new features to enhance the functionality of the app.
The first feature is support for Express Checkout, which has been available through the regular online store but is now available through the app as well. With Express Checkout, a user placing an online order can bypass the shopping cart system and simply click the "Buy Now" button and enter his or her password to complete the order. The order will automatically use the default billing and shipping information associated with the account. A preference allows users to specify whether Express Checkout should default to shipping purchases, picking up purchases, or asking each time.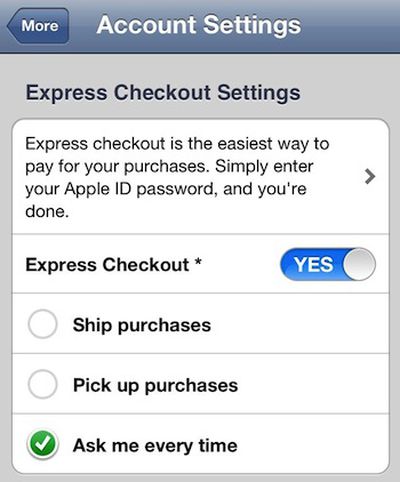 The second new feature, which is only compatible with the iPhone 4S, allows users to alert Specialists at their local retail stores that they are arriving to pick up an order. Typically, users have had to find a Specialist upon arrival and wait for their orders to be collected, but with the new advance check-in system their orders can be ready the moment they walk in the door.