Thunderbolt Software Update 1.2 Causing Boot Failures for Some Users
Among the many software updates Apple has been pushing out associated with yesterday's keynote announcements, Thunderbolt Software Update 1.2 is a relatively minor 537 KB download offered to provide support for the company's new Thunderbolt to Gigabit Ethernet Adapter. The adapter is intended for use with Thunderbolt-equipped MacBook Air models and the new Retina MacBook Pro, which do not come with an Ethernet port built in due to their thin designs.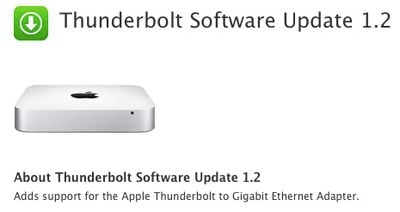 But as noted by TidBITS, the update seems to be causing major problems for a number of users, with some users' machines being rendered unable to boot.
Although it's unclear if all Thunderbolt-equipped Macs are affected, a number of people have reported that installing the update causes a variety of strange boot-related problems (kernel panics, getting stuck at the gray boot screen, "Unexpected error" messages, and more). Regardless of the details, in each case, it seems that the Mac is rendered unusable, even thunderstruck. I've now heard from some people for whom the update did not cause any problems, but it's still unclear what the difference may be between those who are and are not suffering boot failures.
The report notes that the issues can be fixed by reinstalling OS X Lion, although that is certainly not a desirable step for most users to have to take. Consequently, it seems advisable for users to avoid installing this update until the cause of the issues can be identified and Apple can introduce a revised version of the software.