Next-Generation iPhone Rumored to Adopt Thinner and Improved Front and Rear Cameras
In a new research note, KGI Securities analyst Ming-Chi Kuo reports that Apple will be making significant improvements to both front and rear cameras on the next-generation iPhone, advances driven by a desire to decrease the thickness of the device and to improve compatibility with a new 16:9 display.
According to Kuo, the rear camera on the iPhone will remain at 8 megapixels, but the aperture will be increased from f/2.4 to f/2.2 in order to reduce camera module height by nearly 0.5 mm.
[A] number of components have required a slim-down. The component that will undergo the most dramatic make-over is the rear camera. Our research shows that iPhone 5 will feature the first-ever slimmed rear camera of all iPhones, in an effort to deliver an ultra-slim iPhone 5.

Meanwhile, to enhance photography effects, iPhone 5's rear camera will feature a larger f/2.2 aperture than iPhone 4S's f/2.4. However, larger aperture means more noises. In addition, the reduced thickness means even greater challenges for lens design and assembly, as not only the lens, but also the voice coil motor (VCM) and CMOS image sensor (CIS) need to be slimmer. Finally, the compact camera module (CCM) suppler, responsible for the terminal assembly, will be confronted by assembly yield.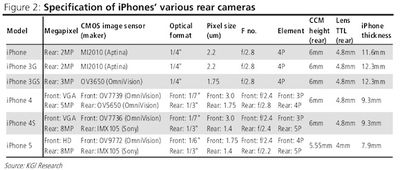 As for the front-facing camera, Kuo argues that Apple's move to a 16:9 display will drive a significant boost to HD quality for the front camera. HD offers the same 16:9 aspect ratio as the new display, as opposed to the 4:3 aspect ratio of the current VGA-quality FaceTime camera, and Apple will likely want to take full advantage of the device's new screen. In addition, moving the FaceTime camera to above the earpiece will allow for more centered images, improving the user experience.
The report also indicates that Apple is adopting flip-chip packing for the new front-facing camera, a process that will result in a thinner assembly and simplify lens production by moving the blue glass filter to the camera module itself.
Kuo has offered accurate information on a number of occasions in the past, relying on sources within Apple's supply chain to piece together Apple's product plans.