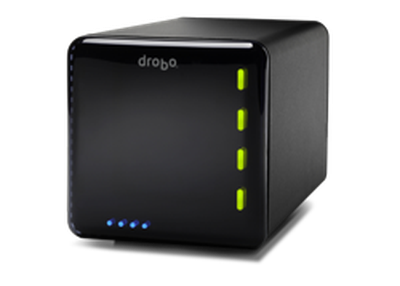 Drobo says it will soon have Thunderbolt-enabled data storage products, as well as adding support for solid state drives. The setup, while extremely pricey, would allow data to run 20 times faster than with USB 2.0 alone.
Drobo CEO Tom Buiocchi wrote in a blog post that "customers have been very clear to us about their desire for Drobos with Thunderbolt support".

I was brought up on the east coast, where we enjoyed the monster summertime thunderstorms every year. One of the coolest things about thunder is that you see it first and then you hear the "kaboom" impact – the delay sends anxious anticipation through everyone, and if you're into science, you can estimate how far away the bolt is based on the length of the delay. Let's face it, thunderbolts are cool.

Today, Drobo is previewing our new Thunderbolt technology much like the real thing – you'll see it now (check out our home page for the quick glimpse) and you'll soon hear the kaboom. Yes, there are some other Thunderbolt products out there now, but I guarantee you that you haven't seen anything like what we're building. Nothing even close.
The company will be demonstrating prototype Thunderbolt-enabled Drobos at a technology show in Taiwan. The company didn't offer details on pricing or availability.