Apple Sending Out 30-Day Reminders for MobileMe Discontinuation
With Apple's MobileMe service set to shut down at the end of this month as the company completes the transition to iCloud, users of the service are receiving 30-day warning emails reminding them of the impending shutdown.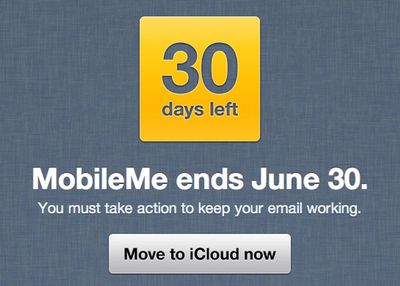 Those MobileMe users who have yet to move their accounts to iCloud are receiving a message warning them that they need to take action in order for their email to continue functioning and offering instructions on the transition process. Apple is also reminding users that those whose systems don't meet the minimum requirements for the full iCloud service can still migrate their email and calendars to iCloud.


MobileMe users who have already converted to iCloud are receiving a slightly different message reminding them that MobileMe Gallery, iDisk, and iWeb hosting will all be discontinued with the final transition to iCloud. Those users should be sure to download any affected content they wish to keep before MobileMe is shut down.