Apple Acquiring Italian Digital Audio Editing Software Firm Redmatica
TechCrunch points to a post [Google translation] from Italian blog Fanpage noting that Apple has signaled its intent to purchase Redmatica, a small Italian software firm responsible for audio editing apps such as Keymap Pro and AutoSampler.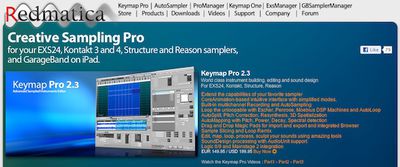 Evidence of the acquisition has appeared in the weekly bulletin of AGCM, Italy's antitrust regulatory agency. The announcement, which is in Italian, begins on page 37 of the bulletin (PDF) published on May 28, and the most relevant portion translates into English as follows:
Under the provisions of the contract "Asset Purchase Agreement Relating to the business as an ongoing concern of Redmatica S.r.l." (hereinafter the Agreement) with the present operation, Apple intends to acquire, through a transfer of assets, the business Redmatica.
AGCM determined that the proposed acquisition would not be anticompetitive in nature given the relatively small sizes of the entities in that specific market and an abundance of competitors. Consequently, the agency does not object to the acquisition by Apple.