How an iPad Speeds Reporting from NASCAR's Pit Row
Dave Burns has been covering stock car racing from pit road for seventeen years, including spending the past twelve covering NASCAR's premiere Sprint Cup Series. These days he's a Pit Reporter for ESPN, covering Nationwide and Sprint Cup practices, qualifying, and races, all over the course of a single weekend -- every weekend -- for months at a time.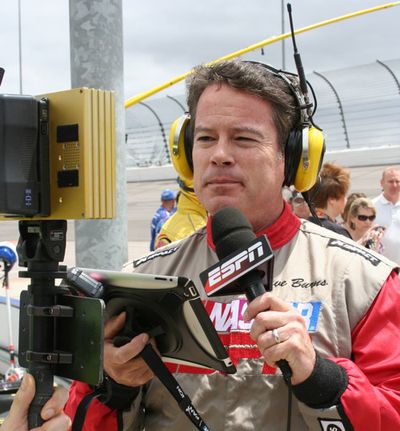 Working the pit lane means dealing with dozens of teams, drivers, mechanics, and more; all while keeping viewers informed across hours of live programming. When he started covering NASCAR for NBC in 2001, Burns developed a sophisticated note-taking system that "catered to our programming, the way my brain worked, and portability." He started with half-sized legal pads and advanced to custom-bound pads that he would print and bind at home. He has since accumulated hundreds of binders filled with information.
"I have boxes and boxes of notepads that impressed the crew chiefs and race engineers every time," Burns said. Enviously, the teams would ask "Who does that for you?" Burns response? "I do, with a laser printer and a big ol' stapler!"

One of Burns' old notebooks
When the iPad was released in 2010, Burns instantly saw the potential. He could digitize his notepads, drop the pen and paper, and carry all his reference material with him to every race. After addressing concerns about size; durability; using it outside in the bright summer sun; and, perhaps most importantly, which apps to use; Burns arrived at his perfect setup:
For taking notes, both hand-written and typed, he uses Note Taker HD, a $4.99 iPad app [App Store]. "Note Taker HD has gone through a couple of valuable updates and has been rock solid all the way. I appreciate the "output" feature which allows me to save or email myself a copy of the weekends' work."
For downloading and storing statistics as well as the weekly NASCAR Media Guide, he found the $1.99 app Simply PDF works best [App Store]. "Simply PDF has been solid as well, never balking at NASCAR's 100+ page per weekend update books. In addition, I permanently store 1-page race results for Nationwide and Sprint Cup, for every event, dating back to 2004."
Originally, Burns used the Boxwave Active Field Case to carry and protect the iPad, but discovered that because it covered the entire iPad, it overheated in the sun. Burns says the first time it happened, he "calmly shut it down and scrambled for pen and paper."
To avoid more heat-related complications, he switched to the FreeOneHand iPad holder and avoids holding the iPad in direct sunlight for too long. It has since "endured countless days out in the 90 degree heat of summer." He uses Boxwave's ClearTouch anti-glare screen protector to cut screen glare.

I upgraded to the iPad 2 over the winter for the weight break and camera, and all has gone smoothly in 2012. I no longer bring my MacBook Air on the road, and am thrilled that the TSA doesn't require that the iPad be removed from my carry on! Using the iPad for what I do has proven to be efficient and entertaining. And, as usual for an Apple product, IT JUST WORKS. I've had to put a baggie over it a time or two in a rain situation, but other than that it absolutely does the job.

And once again the crew chiefs and engineers ask, "who does that for you?"
Burns developed his system personally, using his own iPad, and says that iPad use isn't widespread among the on-air talent at ESPN. "Almost every pit reporter developed a system that fits their way of thinking," Burns said. "As a pit reporter on television, you cue up a lot of things to say in your brain, but as the action on the track moves, so must your story."
He said that with his paper notepads, he would constantly be flipping back and forth from a "driver page" with prewritten story notes to a "race tracking page" where he jots down details mid-race. He says that he runs into the same problem on the iPad and he has needed to train himself to remember the tricks that get him from app to app, and this "may be a process that would distract others rather than help them." He says that ESPN isn't requiring reporters to work a certain way, as these note taking systems are extremely personal.
Most importantly, so far as Burns is concerned, the system "really works" for him. Side effects, such as saving resources by not needing to print hundreds of pages each week, are a benefit, but weren't his primary motivation. "I can do a lot of things on the fly and easily incorporate items into my notes." Having a connection to the Internet helps too. Burns uses the personal hotspot feature on an Android phone on Sprint because, being a prime NASCAR sponsor, they have the best coverage at the track.


He shared a sample PDF to show the kind of notes he takes. This is from the Pioneer Hi-Bred 250 this past weekend at Iowa Speedway. It includes the race tracking system he developed, post-race NASCAR stats pasted in for future reference, and individual pages for the drivers he covered during the race.
Burns does have some visions for the future. He'd love to add live race timing and scoring, as well as the ability to scan driver's radio frequencies. He currently has a radio scanner hooked up to a Bluetooth transmitter attached to the back to the iPad. "NASCAR keeps close control of their timing and scoring," Burns noted, but they haven't provided that to mobile users except for an app that Sprint, as a primary sponsor, provides to their customers. That app is Android-only at the moment, but is coming to Sprint iPhone owners later this year.
"I may not want it," Burns noted. "I don't know if I want my note-taking iPad tied up with scanning frequencies or showing a screen of scoring" or a live ESPN video feed. That said, he would "always like to try."
This weekend, he'll be covering the NASCAR Nationwide race live from the pit road at Charlotte Motor Speedway. Coverage of qualifying begins at 11AM Eastern on ESPN, with the race beginning at 2:30PM Eastern on ABC.