OS X Mountain Lion Adding Offline Safari Reading List Mode and Dictation to Mac
In the week since Apple's last developer update of OS X Mountain Lion, several new features including hints of automatic app downloads have been discovered in the next-generation operating system. The discoveries are still continuing, with signs of two new features: offline Reading List mode and iOS-like dictation.
Gear Live highlights the offline reading list option, which is an augmentation of the Safari bookmarking feature that debuted in OS X Lion and syncs saved articles across devices. As noticed by Gear Live, a warning screen in Safari on OS X Mountain Lion indicates that articles saved to Reading List are available for viewing even when the user's Mac is not connected to the Internet.
While troubleshooting a home network issue today, I stumbled upon a new feature that Apple is introducing in OS X Mountain Lion. [...]

When you aren't connected to a network and pull up Safari, you get a message that tells you that you aren't connected to the Internet, but that your "Reading List articles are available for viewing while you are offline."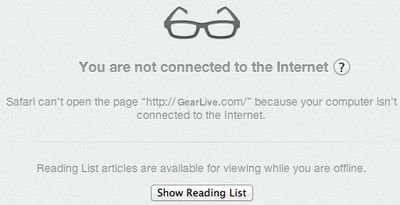 Meanwhile, 9to5Mac reports that a keyboard shortcut listing in the latest build of OS X Mountain Lion suggests that built-in dictation capabilities will be coming to the Mac. Such capabilities debuted as part of Siri on the iPhone 4S, with only the dictation portion making its way into the third-generation iPad released earlier this year.
According to a resources file inside of the latest build of Safari in the newest seed of the upcoming OS X Mountain Lion, Dictation might be making its way to Macs next. Since Macs do not sport virtual keyboards or physical keyboards with a microphone-labled key, users (by default) will apparently need to simultaneously click both command keys to start voice input.


No other evidence of dictation or other Siri-like features has yet been discovered in OS X Mountain Lion, but Apple continues to work on the next-generation operating system and will undoubtedly issue an extensive preview of it at next month's Worldwide Developers Conference in San Francisco.