Apple Updates OS X Mountain Lion Developer Preview to Build 12A206j
Apple today pushed out another update to its OS X 10.8 Mountain Lion developer preview program, moving to build 12A206j. The update comes on top of build 12A193i, which was released on May 1.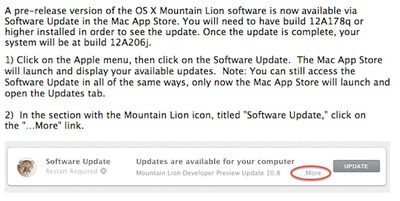 Apple notes that "MacBookPro3,1", which corresponds to mid and late 2007 machines, is not compatible with the new build, but that issue will be rectified in a later build.
No other details on improvements in the latest build are available yet, but it certainly appears that Apple is making some of its final tweaks for developers leading up to its Worldwide Developers Conference less than four weeks away. Apple is expected to provide extensive previews of OS X Mountain Lion at the conference, with a public launch scheduled for "late summer".
The new Mountain Lion build is still a bit short of the 12A211 build spotted in a Geekbench entry for an apparently unreleased MacBook Pro earlier this week. While that entry could have been faked, the data does match closely with what is known about upcoming Ivy Bridge MacBook Pro models, and Primate Labs believes the entry to be legitimate.