Retina-Resolution Displays to Add Up to $100 to Apple's MacBook Pro Costs
With Apple's MacBook Pro line now widely rumored to be gaining ultra high-resolution "Retina" or "HiDPI" displays at next month's Worldwide Developers Conference, CNET reports that such panels are already available in the supply chain and that they carry price premiums of up to $100 over their non-Retina counterparts. But what remains to be seen is whether that price difference will be passed along to consumers or if Apple will find ways to cut costs in other areas in order to maintain its existing price points.
DisplaySearch Senior Analyst Richard Shim says that super high-resolution 13.3-inch and 15.4-inch panels that Apple would be a prime candidate to use are already available from suppliers.

"We're seeing it at 15.4 (inches)," Shim said in an interview yesterday. "You can get it."
According to Shim, a Retina 15.4-inch display at 2880x1800 resolution for a density of 220 pixels per inch (ppi) currently costs approximately $160, a $92 increase over Apple's estimated cost of $68 for the current display in the 15-inch MacBook Pro. In the smaller 13-inch MacBook Pro, a Retina display at 2560x1600 costs $134, a $65 premium over the display used in the current model.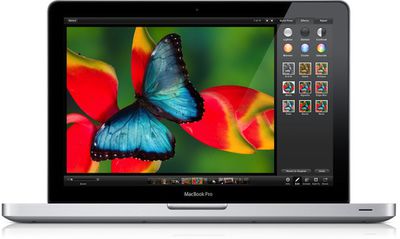 Unaddressed is the 17-inch MacBook Pro, which would require a display of 3840x2400 and undoubtedly carry an even higher price premium over the current display. It is unclear, however, whether the 17-inch MacBook Pro will be receiving the same upgrades as the rest of the family at WWDC, as most rumors so far have pointed to only 13-inch and 15-inch MacBook Pro models being in production. In addition, Apple has been rumored to be following the pattern of its transition to the unibody MacBook Pro design in moving the 17-inch model to the new form factor several months after its smaller siblings.
Shim notes that with these Retina resolution displays available in the supply chain, Apple is the most likely customer for the screens, although he has been unable to confirm what company or companies are purchasing them for use in their computers.
Also unclear is how Apple will handle the cost increase associated with the Retina displays. While some cost savings will be achievable by the removal of the optical drive, Apple will almost certainly see increased costs for storage as the MacBook Pro reportedly moves from traditional hard drives to solid-state drives. While such drives are used in the lower-priced MacBook Air models, higher-end users expected to be drawn to the MacBook Pro will likely demand higher-capacity drives at significantly greater costs. Consequently, it will be interesting to see how Apple ends up pricing the redesigned MacBook Pro given all the changes involved.