Sporadic Reports of Walmart Offering 16 GB AT&T iPhone 4S for $114 [Updated]
Late yesterday, Cult of Mac reported that select Walmart locations had significantly dropped their prices on the AT&T iPhone 4S and iPhone 4, slashing the 16 GB AT&T iPhone 4S to just $114 and the AT&T 8GB iPhone 4 to $34 on contract. Walmart's usual pricing has been $188 for the iPhone 4S and $88 for the iPhone 4, already below Apple's standard $199/$99 pricing.
This news comes to us from Edmond, Oklahoma, and we're not sure how widespread the sale is in the United States, or how long it will last. AT&T has yet to clarify if this price drop is a national carrier promotion, or a change decided by Walmart.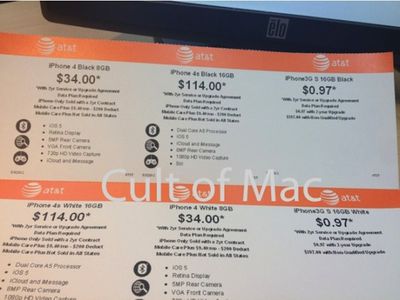 Highlighting the sporadic nature of the reports, The Verge notes that it contacted six Walmart stores around the United States and found only the initial Edmond, Oklahoma store and a store in Austin, Texas offering the discounted pricing. Walmart's website also has not been updated with the lower pricing.
Most observers expect that Apple will not introduce new iPhone hardware until the September-October timeframe, in line with the iPhone 4S debut last year. But for those still holding out hope for a launch next month at Apple's sold-out Worldwide Developers Conference, Walmart's price drop, even if only sporadic for the time being, may provide a reason to not yet give up.
Update: Walmart issued a statement to 9to5Mac saying the chain "experienced a pricing error in limited stores" and that the issue has since been corrected. The correct Walmart pricing for the 16GB iPhone 4S is $188; iPhone 4 at $88; and iPhone 3GS at $0.97.