iTunes Match Launching in New Countries Including Austria, Greece, and Italy
MacRumors has begun receiving reports that iTunes Match has started going live in several new countries today. So far we have heard from users in Austria, Greece, and Italy, with some users reporting that they have been required to agree to updated iTunes Store terms and conditions addressing the service while others have even been able to sign up for the service.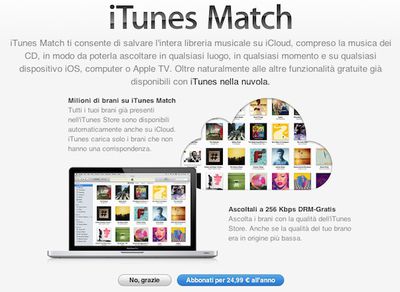 iTunes Match signup page in Italian iTunes Store
It remains unclear just how broad this latest round of debuts is, as Apple has yet to update its
support document
outlining availability of iTunes in the Cloud and iTunes Match, but signs of activity in various international iTunes Stores suggest that iTunes Match may also be going live in Bulgaria, Portugal, and Slovenia.
As part of the new rollout of Apple's paid iTunes Match service, users in these countries should also be receiving access to the free iTunes in the Cloud services for music and music video, which allow users to re-download purchased content any number of times to devices associated with their iTunes Store accounts.