Apple Looking to Bring EPIX Movie Streaming to Apple TV, Potential Television Set
Reuters reports that Apple has been negotiating with movie streaming service EPIX for the rights to stream content to the Apple TV set-top box. According to sources, the deal would also extend to future streaming devices such as the much-rumored Apple television set.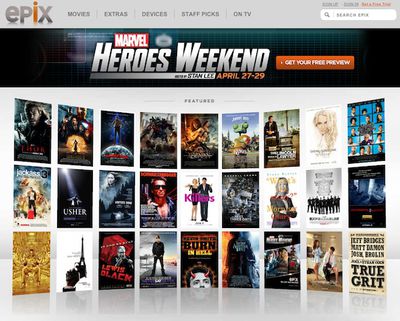 Apple, which now sells a $99 set-top box that hooks up to a television set and lets users stream online content from Netflix and the MLB channel, opened discussions with three-year-old EPIX, created by Lions Gate Entertainment Corp, MGM and Viacom's Paramount Pictures.

One of the sources told Reuters that any discussions would apply to its set-top box and also to upcoming devices that stream content.
Sources note that talks between Apple and EPIX remain preliminary and that no deal is expected in the near future. Still, the rumors suggest that Apple is continuing to push forward in its attempts to secure content as it seeks to build a bigger footprint in the living room.
EPIX has an exclusive streaming agreement with Netflix that extends through September, so it seems unlikely that any agreement with Apple could go into effect before that time, but it also remains unclear how the financial situation would shake out for EPIX in adding Apple while Netflix loses its exclusivity.