London Apple Stores Prepping for Summer Olympics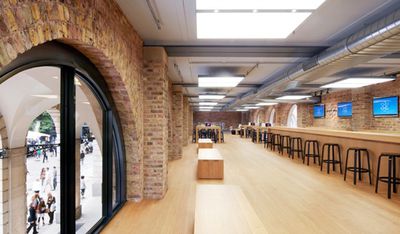 Apple is equipping its London Genius Bars with replacement international keyboards for MacBooks and considering stocking new MacBooks with American, Asian and other international keyboards ahead of the 2012 Summer Olympics in the city, according to a report from TUAW.

A high-level Apple retail employee here in London told me today that the company is planning to stock its London area retail stores with international replacement MacBook Pro, MacBook Air, and MacBook keyboards. This way, the retail outlets will have the spare parts on hand should international journalists need a quick turnaround on a damaged laptop.

As my source told me, "London is going to be overrun by an onslaught of journalists when the games begin. We want to be prepared should they need help with their equipment during the time they are here."
TUAW notes that along with the thousands of athletes and other support staff attending the Olympics, more than 10,000 print journalists are expected to be covering the games, along with numerous other bloggers, editors, photographers, videographers along with thousands of tourists -- many of them Mac and iOS users.
The stocking of international keyboards will be important for foreign Mac users coming to the city for the Olympics. Generally, Apple Stores only stock keyboards localized for the country in which the store is located, and international keyboards must be ordered separately. This would be impractical for Mac users covering the games, as time will be of the essence on any repairs.
It is likely that the London-area retail stores will see some of their heaviest traffic ever during the Summer Olympics, and will have extremely high staffing levels to prepare for it. London itself has five Apple Stores, including the Regent Street and Covent Garden flagships.
The 2012 Olympic Summer Games will run from July 27th through August 12th.