Apple Releases Second Update to Java in Two Days
Apple has released its second update in two days to the OS X implementation of Java. The first update closed a vulnerability that has led to the infection of more than 600,000 Macs via a trojan horse. The infections have received increased media attention in the past day, including a splashed headline on the Drudge Report.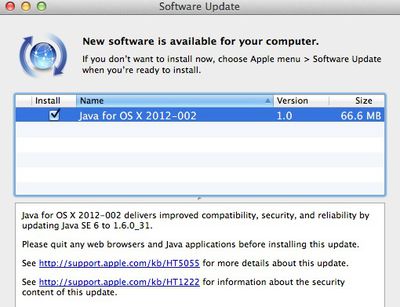 While yesterday's Java for OS X Lion 2012-001 update closed the vulnerability in Java 1.6.0_29, there's no indication what the new update -- called Java for OS X 2012-002 -- fixes. The update notes link to the same support document as update 2012-001.
Last year, Apple introduced a security update to OS X that would automatically remove malicious software from OS X installations. It isn't clear if the infected machines can be fixed via the internal OS X security mechanisms.
In OS X Mountain Lion, the next version of the OS X software that will be released this summer, Apple will include a feature called Gatekeeper. The new system relies not only on Mac App Store distribution as means of vetting apps, but also on a new "identified developer" program under which developers distributing their applications outside of the Mac App Store can register with Apple and receive a personalized certificate they can use to sign their applications. Apple can then use that system to track developers and disable their certificates if malicious activity is detected.