LaCie Hub Now Shipping, Connects eSATA Drives via Thunderbolt
Announced at CES earlier this year, the LaCie's new Thunderbolt eSATA Hub is now shipping. The device allows external eSATA drives to be connected to Thunderbolt equipped Macs. The daisy-chainable hub includes two eSATA ports and retails for $199.
eSATA is a high performance drive connector used to connect external hard drives to your computer. eSATA has never been a standard option on Macs, but is a faster alternative to USB 2.0 and Firewire and is commonly found on high performance external drives and storage arrays.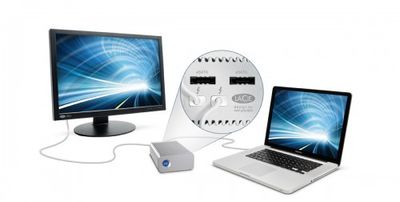 For those who are have existing eSATA drives or are waiting for Thunderbolt drives to drop in price, this could be a good interim solution. The Hub isn't yet available for order on LaCie's website. We spoke to someone at LaCie's sales center who told us the first batch had sold out, but that more were to arrive in a few days. Interested parties can contact LaCie sales directly to place an order for one of these backordered units, and it'll ship out when LaCie receives them.