CES 2012: LaCie Hub Connects eSATA Drives to Thunderbolt Macs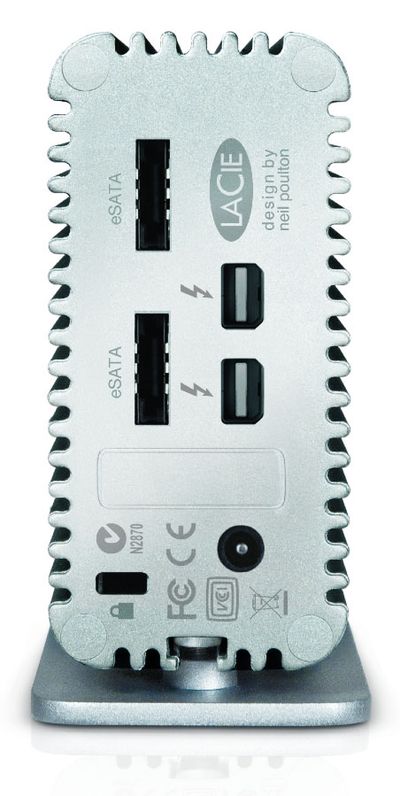 CNet reports on a new eSATA Hub from LaCie which allows you to connect external eSATA drives to your Thunderbolt equipped Mac.
The hub comes with two Thunderbolt ports and two eSATA ports. Users can connect up to two eSATA drives to the hub for use on their Thunderbolt equipped Macs. The additional Thunderbolt ports can also be used to daisy chain additional Thunderbolt peripherals off the device.
eSATA is a high performance drive connector used to connect external hard drives to your computer. eSATA has never been a standard option on Macs, but is a faster alternative to USB 2.0 and Firewire and is commonly found on high performance external drives and storage arrays. As noted by CNet, eSATA devices are also presently cheaper than their Thunderbolt counterparts. While Thunderbolt has a higher maximum speed than eSATA, if you are just connecting a single external drive (and not a drive array), it's not likely to exceed the upper limit of eSATA.
So, for those who are have existing eSATA drives or are waiting for Thunderbolt drives to drop in price, this could be a good interim solution. Unfortunately, LaCie hasn't released a price yet, but this eSATA hub is expected to be available during the first quarter of 2012.