Foxconn Recruiter Claims Hiring Spree Boosting Production for June iPhone 5 Launch
Mac Otakara points to a news report [Google translation] from TV Tokyo's World Business Satellite in which a Foxconn recruiter claims that the company is hiring 18,000 new workers to support production of the iPhone 5. According to the recruiter, the device is planned to launch in June.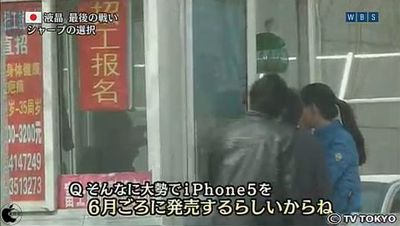 TV Tokyo reporter talking to Foxconn reporter
The exchange took place at Foxconn's plant in the suburbs of Taiyuan, China, where 80,000 workers are already employed. The brief clip of the reporter talking to the Foxconn recruiter appears just over seven minutes into the news segment.
It appears unlikely that a recruiter would be specifically provided with information on Apple's device launch plans, although knowing something of Foxconn's hiring goals and targeted job needs could offer them insight into the production roadmap.
While there have been a few reports indicating that Apple could return to its mid-year launch timeframe with the next-generation iPhone, many observers believe that an interval of just 8-9 months from the iPhone 4S debut is too short for Apple's liking and development cycle. Consequently, a repeat of the later September-October timeframe as occurred last year has been seen as the most likely scenario for a 2012 iPhone launch.