Ashton Kutcher to Play Steve Jobs in Upcoming Indie Film "Jobs"
Variety reports that actor Ashton Kutcher will be playing Steve Jobs in an upcoming independent movie called Jobs.
The film will chronicle Steve Jobs from wayward hippie to co-founder of Apple, where he became one of the most revered creative entrepreneurs of our time.
The movie is set to start production in May while Kutcher's CBS sitcom Two and Half Men is in between seasons.
Ashton Kutcher was first known for his role as Michael Kelso in the sitcom That '70s Show but has since seen success in movies and other TV series. Kutcher has also been recently involved in Silicon Valley startups and technology investing.
Despite the timing of the news on April Fools, the author notes that they discussed holding the story until Monday, but were worried about losing the scoop. The story is presently on the front page of Variety's website.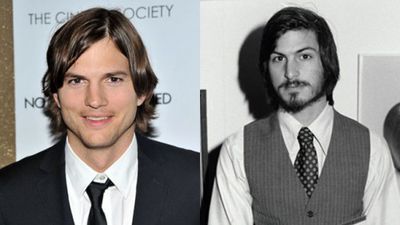 The Hollywood Reporter also reports on the news and provides the comparison shot above between Kutcher and Steve Jobs from 1977. It should be noted that this is a separate project from the Sony project that had acquired the rights to the Walter Isaacson authorized biography.