'iTunes Producer 2.6' Appears in OS X Software Update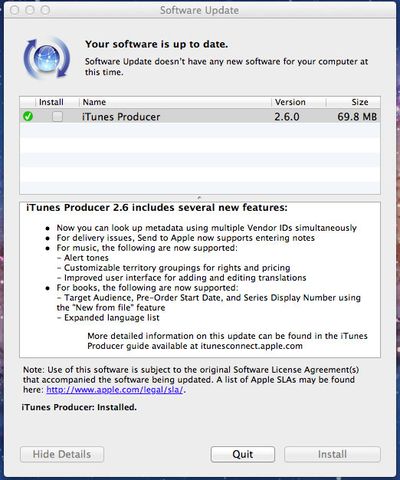 Several readers have noticed the appearance of 'iTunes Producer 2.6' in their OS X Software Update. iTunes Producer is Apple's submission tool for music (and books) to the Apple iTunes Store.
iTunes Producer: This free software application allows you to prepare your music for direct delivery to iTunes. Use it to encode your music in AAC format; enter album, song, and cover art information; and send your prepared files directly to Apple for consideration.
The appearance has generated some confusion amongst users who are unfamiliar with the software, suggesting it may have been inadvertently pushed to unintended users via Apple's OS X Software Update mechanism.
iTunes Producer is also the publishing software for iBooks Author books, so the update may be detecting users who have simply installed iBooks Author as well. When publishing books from iBooks Author, users are required to register for an iTunes Connect account in order to download the iTunes Producer software.