New iPad Graphics and Processor Benchmarks: iPad 2, NVIDIA Tegra 3
With the 3rd Generation iPad now out in the wild, we are starting to see more benchmarks comparing the new iPad to the iPad 2 and other devices.
Insanely Great Mac provides this nice overview video comparing both graphics and processor benchmarks between the new iPad, iPad 2 and original iPad.
They found that the extra Quad-Core GPU power found in the new iPad seems to primarily allow the new iPad preserve performance on the new Retina Display rather than providing any significant boost in the experience over previous devices. The new iPad, however, is pushing 4-times the number of pixels as the iPad 2, so you do get a distinct visual improvement, but raw framerates seem to be near identical on the tested benchmarks. Benchmarks, of course, are rather artificial measures of performance, and developers may find other differences between the two devices depending on the circumstance.
Meanwhile, LaptopMag pitted the 3rd Generation iPad against the NVIDIA Tegra 3. Apple specifically claimed that the new iPad's A5X chip had 4x the graphics performance as the Tegra 3. They did find, in at least one graphics benchmark, the iPad 3 did exceed the Tegra 3 by a comparable factor: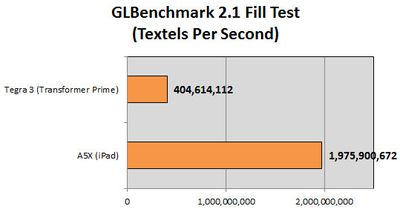 CPU (Processor) speed, however, was a different story. The Tegra 3's Quad-Core CPU did beat out the new iPad's Dual-Core CPU:


Apple specifically boosted the new iPad's graphics processing unit (GPU) from Dual-Core to Quad-Core in the A5X chip, but kept the same Dual-Core central processing unit (CPU) as the previous generation. The unreleased A6 chip is believed to be Apple's next generation Quad-Core CPU which is still in the pipeline.