New Verizon iPad Runs on AT&T 3G Networks with AT&T Micro-SIM
One of the major selling features of the new Verizon iPad Wi-Fi + 4G LTE is its compatibility with GSM networks for international roaming purposes. But what hasn't been clear is whether users could insert an AT&T micro-SIM card into a Verizon iPad and receive data connectivity. Given that the Verizon iPad supports the same GSM frequency bands for non-LTE networks as the version sold for AT&T, it appeared to be technically possible to use a Verizon iPad on AT&T although Apple could have opted to restrict the device's operation on other networks.
As
noted by jsnuff1 in our forums
, the new Verizon iPad does indeed work on AT&T's network when equipped with an AT&T micro-SIM and the device's carrier settings are updated to support connecting to AT&T.
Big question on everyone's mind buying the Verizon iPad was whether data from AT&Ts 3G network would work on this iPad, or if Verizon/Apple would block this.

I was one of the first to obtain a Verizon iPad and can happily confirm that this is allowed! I used my ATT iPhone 4S sim card and took out the Verizon sim, and data worked! You must apply the AT&T APN carrier settings before this works though.
It is important to note, however, that a Verizon iPad will be limited to non-LTE bands (EDGE, 3G, HSPA+ 4G) on AT&T. The Verizon iPad hardware supports only the 700 MHz band for LTE to match the carrier's technology, while the GSM version sold for use on AT&T's network supports both the 700 MHz and 2100 MHz bands as used by that carrier.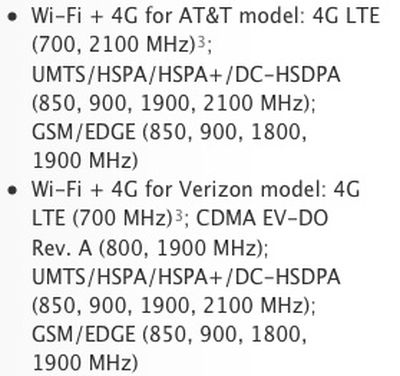 Initial pre-orders of the new iPad are arriving today, while retail outlets in ten countries are offering in-store purchase for those still looking to purchase an iPad on launch day.