Apple Retail Stores Begin Prepping for iPad Launch as First Third-Party Retailers Open
With Apple's official launch of the iPad in Australia, Japan, Singapore, and Hong Kong just hours away, it seems that some of the company's retail stores are beginning their preparations. At Apple's Fukuoka Tenjin store in Japan, which closed for the night a little over an hour ago, employees are currently hard at work removing iPad 2 units from display in order to replace them with demo models of the new iPad.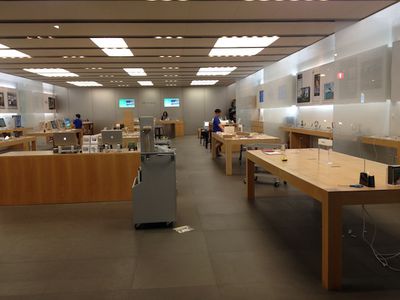 Apple's retail stores will be opening at 8:00 AM local time to begin selling the new iPad, but some third-party retail partners will be opening even earlier. In fact, our friends at iFixit have traveled to Australia in order to be among the first to obtain an iPad for teardown purposes and were first in line at a Telstra retail store in Melbourne that opened just a few minutes ago at midnight. The carrier is even celebrating the event with a meter square iPad cake.


Update: iFixit now has its iPad in hand and will begin tearing it down shortly.