Apple Retail Store Signage Confirms 8:00 AM Launch for New iPad on Friday
Yesterday, we noted that Apple's grand opening of its new Highland Village retail store scheduled for 8:00 AM on Friday hinted that the company was likely to planning to launch the new iPad at that time rather than in a late afternoon launch as was seen with the iPad 2.
We received word soon after that visual merchandising staff at Apple's retail stores were scheduled for an overnight shift on Thursday night into Friday morning in order to prepare the store for a morning launch, and now 9to5Mac posts a photo from a retail store source showing some of the new signage going up this week confirming an 8:00 AM launch for the device on Friday.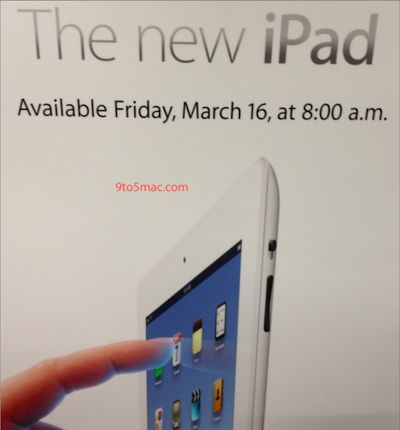 Apple's product launches have historically been scheduled by local time, so customers in any of the iPad launch countries with Apple retail stores should expect those stores to open at 8:00 AM in their local time zones. With Apple having sold out of its initial batch of online pre-orders for Friday delivery, those still looking to secure an iPad on launch day will need to wait in line at an Apple retail store or other launch retailer in hopes of obtaining one.