Live Coverage of Apple's iPad 3 Media Event
Apple is holding a media event today at the Yerba Buena Center for the Arts in San Francisco, where it is widely expected to introduce the iPad 3 and an updated Apple TV set-top box. The event is scheduled to kick off at 10:00 AM Pacific Time / 1:00 PM Eastern Time.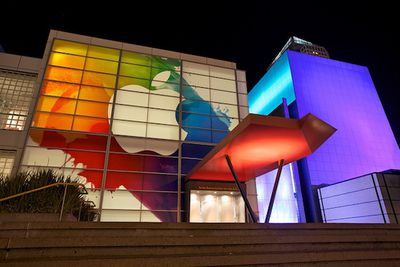 Photo courtesy of Kiel
Apple will apparently not be providing live video coverage of the event to the public, but a number of news sites will be on hand to provide text and photo updates, and we're including links to several of them here. We will also be updating this article with coverage as the media event unfolds and issuing Twitter updates through our
@MacRumorsLive
account. Separate news stories regarding the event announcements will go out through our
@MacRumors
account.
- Engadget
- Ars Technica
- The Verge
- gdgt
- Macworld
- AllThingsD
- CNET
- SlashGear
- The Loop
Apple's online stores around the world are currently down in advance of the event.
Liveblog

Media event line forming at Yerba Buena
- The media, Apple executives and other "special guests" have been seated and are waiting for the event to begin.
- Lights are dimming, Apple CEO Tim Cook has taken the stage.
- Cook: "Good morning! Thank you very much for joining us. We have a great morning planned, and I'm very excited to be here. I'd like to get started by talking about the post-PC revolution, and Apple is at the forefront of leading this revolution."
- "We're talking about a world where the PC is no longer the center of your digital world. A world where the devices you use the most need to be more personal and more portable than any PC has ever been."
- Apple has three post-PC devices: iPod, iPhone, iPad.
- "The iPad 'defined a whole new category. In many ways, the iPad is reinventing portable computing and it's out-stripping the wildest of predictions.'"
- Sold 172 million Post-PC devices, making up 76% of Apple's revenue in 2011. "Apple has its feet firmly planted in the Post-PC future."
- "The post-PC world plays to our strengths." Talks up Apple Retail Stores. "These devices are new to many people. There needs to be a place to discover​ them."
- Apple sold 315 million iOS devices -- iPod Touch, iPad, iPhone -- through last year, 62 million in Q4 2011.
- Talking about Siri. "Siri is your best friend... who gets things done just by asking." Demoing what Siri sounds like in other parts of the world.
- Siri coming to Japan as part of iOS 5.1. 5.1 launches today, with siri rolling out in Japan over next few weeks.
- 585,000 apps on the App store. 25 billion apps downloaded, 25 billionth app downloaded in China.
- 100 million iCloud customers.
- iCloud now supports movies, in 1080p, re-download movies you've purchased on any device.
- New AppleTV announced, supports 1080p, new "streamlined" user interface. UI is full-1080p resolution.
- iCloud now supports iTunes playlists, better implementation of third party apps like MLB.tv.
- Eddy Cue demonstrates Apple TV, including National Geographic screen savers, Photo Stream, and more.
- Recommends movies based on what you've watched previously.
- "That's the new Apple TV and we think you're gonna love it."
- $99, available for preorder today, ships March 16th.


- Now the iPad. Sold 15.4 million in Q4 2011. "iPad is the poster child for the post-PC world."
- Apple sold more iPads than any individual PC-maker sold PC's.
- "When we set out to create the iPad, we set out to create not just a new product, but a new category. In order to do that, the iPad had to be the best device for doing some of the things that you do most often."
- "When we asked iPad users who had a notebook a desktop and a smartphone about their favorite device ​for email, they responded 'iPad.'" Same for web browsing, reading, and gaming (even versus home consoles).
- Remarkable for a device that has only been out two years.
- More than 200,000 apps designed specifically for iPad. "They can help you create or learn or do almost anything."
- 100+ tablets came out last year, none have same user experience as iPad.
- Comparing Twitter on Android (looks like a blown up smartphone app) to Twitter on iPad. "Clearly designed to take advantage of the large canvas."
- Compares Yelp apps. "Lots of white space. Tiny text, hard to read. Compare that to the iPad. This is a reason momentum on the iPad that continues to build."
- New iPad. "We've taken it to a whole new level, and we are redefining the category that Apple created with the original iPad."
- It has a home button. And Retina Display. "Until you see it you can't understand how amazing it is."
- "This presents a problem for us in presenting it to you. For the first time, an iPad has a higher resolution than this entire display behind you... that's a fun challenge."
- "Photos are just going to look amazing on that gorgeous high-resolution display."
- 2048 x 1536 resolution. Higher than a 1080p display. 3.1 million pixels, 264 pixels per inch, "enough to call it a retina display". iPhone 4 was held at 10 inches, iPad held at 15".
- 44% greater color saturation.
- A5X Processor, quad-core graphics.
- New iSight Camera. 5MP rear camera, backside illuminated sensor on the back, 5-element lens, IR filter, and ISP built into A5X chip. Same design as iPhone 4S. Auto-exposure, auto-focus.
- HD video recording in 1080p.
- Siri-like voice dictation. Microphone button on keyboard. Supports US English, British, Australian, French, German and Japanese.
- Supports 4G LTE. Supports HSPA+ up to 21MBps, DC-HSDPA at 42 Mbps, and LTE at 73 Mbps.
- Supports AT&T and Verizon LTE in the US. Telus, Rogers, Bell in Canada.
- Two different models of iPads for AT&T and Verizon because they use different bands. Same as CDMA/GSM iPad 2's.
- All are 3G world-ready, can roam world-wide.
- iPad can be a personal Wi-Fi hotspot, if carrier supports it.
- New iPad supports most bands ever.
- Running down features.
- Battery life on iPad 2 was 10 hours, 9 hours on 3G.
- New iPad has 10 hours of battery life, with 9 hours on 4G.
- 9.4mm thin, weights 1.4 lbs. iPad 2 was 1.33 lbs. and 8.8mm thick.
- $499 for 16GB model. $599 for 32GB, $699 for 64GB. Same pricing as iPad 2.
- 4G is $629/$729/$829.
- Available March 16th, preorders start today.
- US, Canada, UK, France, Germany, Switzerland, Japan. Apple's biggest rollout ever.
- All the stock apps have been updated and optimized for the new display.
- Existing apps will be scaled up and text automatically rendered for higher-resolution display.
- Developer demo time.
- First is James Shelton, Game Design Director from Namco.
- New flight sim game, "Sky Gamblers"
- Planes dogfighting. Shake the iPad to eject the pilot from the plane. Clever.
- Sky Gamblers exclusive to iOS, launches later this month.
- Chris Cheung from Autodesk, demoing Sketchbook.
- 10 million customers for Autodesk on desktop, "tens of millions" of new users on iOS.
- New app: SketchBook Ink "A new drawing app that focuses on line art."
- Can export images greater than 100 megapixels.
- MIke Capps from Epic Games. "An amazing new project."
- Infinity Blade Dungeons. "We're excited to raise the bar for gaming with the new iPad."
- Player is on a quest to craft "the ultimate weapon": The Infinity Blade.
- HDR Graphics and tone-mapping.
- More memory or screen resolution than Xbox 360 or PS3.
- "Coming soon"
- New versions of Pages, Keynote, Numbers updated for Retina Display. Free update if already purchased, same $9.99 price otherwise.
- Updated GarageBand. Smart Strings, Note editor, iCloud integration. $4.99 or free update for previous owners. "Jam Sessions" allow multiple iPads to be used to create a band"
- iMovie updated as well. Adds Movie Trailer creation, with visual storyboards like iMovie for OS X.
- iMovie is $4.99, free update for current owners. Available today.
- iPhoto for iPad. "It is amazing."
- For those who love the photos they take with family and friends and want to do even more with them.
- Same photo library, new browsing, new ways to edit with multi-touch, professional-quality effects, brushes, and Photo Beaming let's users move photos between devices.
- Randy Ubillos, Chief Architect for Photo and Video Applications on stage.
- By double-tapping a photo, iPhoto finds all pictures that look similar. Swipe down to remove them, double-tap to go full-screen.
- App supports up to 19 megapixel photos.
- Share photos through email, Flickr, Twitter and more.
- Built-in horizon finding tool. Locates horizon and rotates image as appropriate.
- All non-destructive editing.
- Tilt-shift and watercolor effects.
- New "Journal" feature, allows users to highlight photos with captions, like a scrapbook. Add notes and text, calendars, geotags, weather, and more.
- Very easy sharing, publish to iCloud, viewable in any browser.
- $4.99, available today on iPad and iPhone.
- Demo video, recapping all the new features.
- iPad 2, $399 for 16GB Wi-FI model, $529 for 16GB 3G model.
- Says education is big reason for keeping iPad 2 around. "So many more schools can afford this."
- The new iPad is apparently called "The new iPad."
- Showing new iPad television commercial.
- Cook says it is the privilege of a lifetime to work with Apple employees, "the most innovative" on earth.
- Lots to look forward to in 2012, "we are just getting started."