Apple Launches iPhoto for iPad with Photo Editing and Organization Features
With the introduction of a Retina display on the new iPad, Apple has updated all of its stock applications to support the higher resolution, also adding updates to several of its applications including GarageBand and iMovie. But the company has also filled out the remainder of its iPad versions of its iLife suite with the launch of iPhoto for iPad, a new application offering photo editing capabilities right on the device.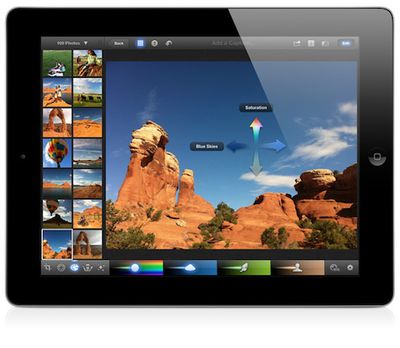 iPhoto for iPad offers a broad array of photo editing and comparison features, including auto-enhancements such as straightening photos and fixing contrast. Brush palettes offer a number of editing tools including red-eye removal, lighten, sharpen, soften, and darken. iPhoto can handle images up to 19 megapixels.
iPhoto, Apple's popular photography app, has been completely reimagined for iOS to take full advantage of the Retina display and intuitive Multi-Touch gestures on iPad and iPhone. Simple gestures can be used to select and compare photos side by side and flag your best shots. iPhoto gives you full control over color, exposure and contrast, and you simply touch the parts of the image you want to change. You can enhance pictures by adding beautiful Apple-designed effects with just a tap, or apply adjustments exactly where you want them with fingertip brushes. In addition to posting photos to Facebook, Flickr and Twitter, you can beam photos between your iPhone and iPad; stream photos and slideshows to your Apple TV with AirPlay; and use iCloud to publish photo journals to the web and share your stories with friends and family in a whole new way.
iPhoto for iPad launches today and is priced at $4.99.