LTE Claims for iPad 3 Continue to Roll In Amid Rumors of March 16 Launch
Reuters adds its voice to the growing chorus of rumors claiming that Apple will indeed include 4G LTE compatibility on the iPad 3 when it debuts tomorrow. While some have remained skeptical of the claim amid concerns that the technology is not yet broadly-enough available to be worthwhile, Reuters joins Bloomberg and The Wall Street Journal among mainstream publications making the assertion.
Apple Inc is betting a 4G-equipped iPad will tempt more U.S. consumers to pay extra to watch high-quality video on the go, and in turn, give Verizon Wireless and AT&T Inc a revenue boost. [...]

The newest iPad will be capable of operating on a high-speed 4G "LTE," or Long-Term Evolution network, according to a source familiar with the product. At speeds roughly 10 times faster than current 3G technology, that may go a long way toward banishing the sometimes shaky video quality of older devices.
The continued claims of LTE compatibility comes as March 16 seems to be firming up as an expectation for the actual launch of the iPad 3 in the United States. The date has been considered a likely candidate since word of Apple's March 7 media event surfaced, given that the iPad 2 debuted nine days after its introduction last year.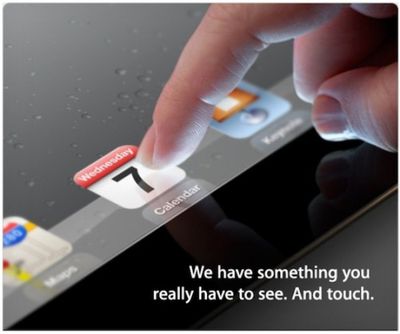 Rumors of a March 16 launch received another boost last week when it was revealed that Apple's new Houston store had seen its grand opening moved up by a day to March 16 in an unusual move for the company.
9to5Mac now reports that an "Apple Store source who has been reliable in the past" has pointed to March 16 as the launch date.
We've been told by a Apple Store source who has been reliable in the past that preparations are being made for a big Apple Store event which will culminate on Friday, March 16th. Naturally, this points to an iPad 3 launch on the Friday just nine days after tomorrow's announcement.
The source also reports that Apple is planning a "subsequent event" a week later, but it is unclear whether this is referring to international iPad 3 launches or some other event.
Apple's iPad 3 media event is taking place tomorrow at the Yerba Buena Center for the Arts in San Francisco and is scheduled to begin at 10:00 AM Pacific / 1:00 PM Eastern.