Apple Creates a New App Store Category Called 'Catalogs' on Eve of Media Event
On the eve of the Apple media event for the iPad 3, Apple has added a new category in the App Store. The new category is called "Catalogs" and seems to be not yet fully deployed.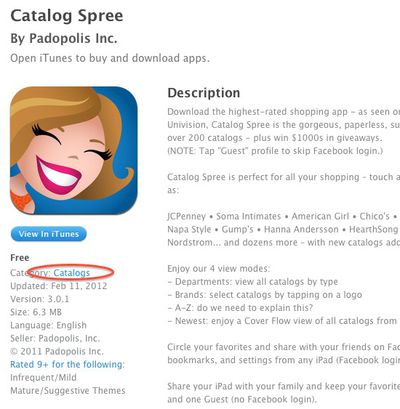 Several existing apps have already been placed into the Catalogs category, including Catalog Spree (pictured above), SkyMall, MTG Merchant and more. These apps have long existed in the App Store and have now been recategorized to "Catalogs". The apps had previously been listed under the Lifestyle and Utility sections of the App Store.
The Catalogs category is not yet fully deployed to the App Store, and is not accessible directly from the App Store's category listings. Linking directly to the Catalogs category in the App Store presently shows an empty list.
Joaquin Ruiz, CEO of Catalog Spree, seems to believe that the timing could be related to the media event tomorrow. Ruiz said in an email, "Adding an app category is not something that Apple does lightly and we believe Apple's decision reflects the importance of this usecase in the Apple App Store ecosystem."
Apple is hosting a media event tomorrow in San Francisco. The timing of the App Store changes are suggestive that it may be related to the event.