Aspyr has released Company of Heroes Complete: Campaign Edition for purchase on the Mac App Store for $49.99. [Direct Link]

Company of Heroes redefines real time strategy gaming by bringing the sacrifice of heroic soldiers, war-ravaged environments, and dynamic battlefields to life. Beginning with the D-Day Invasion of Normandy, players lead squads of Allied soldiers into battle against the German war machine through some of the most pivotal battles of WWII. Through a rich single player campaign, players experience the cinematic intensity and bravery of ordinary soldiers thrust into extraordinary events.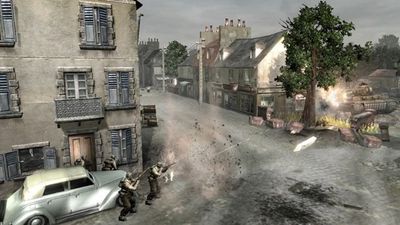 The game, which includes the single-player campaign plus all additional campaigns and content, has some fairly generous system requirements, allowing users of slightly older machines to play -- though the game was originally released for PC in 2006, so this isn't too much of a stretch. PC games arriving on the Mac in any form is impressive enough, though some publishers -- notably Blizzard -- still release their games on the same day across all platforms.

Minimum System Requirements:

Operating System: 10.6.8 (Snow Leopard), 10.7.2 (Lion)
CPU Processor: Intel Core 2 Duo (Dual-Core)
CPU Speed: 2.4 GHz
Memory: 2 GB RAM
Hard Disk Space: 13 GB
Video Card (ATI): Radeon HD 2600
Video Card (NVidia): Geforce 8600
Video Memory (VRam): 256MB
Company of Heroes Complete: Campaign Edition is available for $49.99 on the Mac App Store [Direct Link], Aspyr's GameAgent Store, Amazon.com, and other digital download stores.