Apple Pushing Ahead with Plans for Subscription TV Service by Christmas?
The New York Post reports that Apple is pressing ahead with plans to launch its own streaming television service by the end of the year, despite continued resistance from content providers.
For months, Apple's point man, Eddie Cue, has been leading talks with content providers, which have largely balked at the tech giant's efforts to exert control over all aspects of the video service, including pricing, sources said.

Apple's negotiating stance can be summed up as "we decide the price, we decide what content," according to one source familiar with the talks.

"They want everything for nothing," said another media executive, echoing similar tense negotiations Apple has had in the past with magazine publishers and music companies.
The report claims that Apple is interested in offering entire channels as apps that could be used on a number of the company's devices, including the Apple TV set-top box and presumably a potential Apple-branded television set. The report's sources are, however, unclear on whether Apple is seeking to bundle multiple app channels together to form its own equivalent of cable television packages or if it wants to offer them individually to subscribers.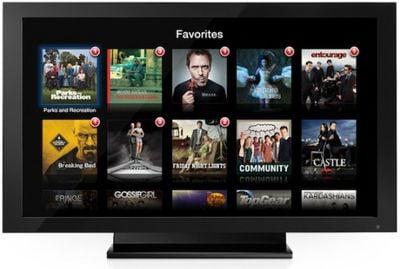 Sources also indicate that Apple has tried with no success to convince cable companies to adopt Apple hardware for their own set-top boxes, with Apple providing sleek hardware and software to deliver content to existing cable subscribers across the United States.
"They want to create the interface, and they wanted to work with the cable guys to manage bandwidth across the TV and broadband pipeline," said one source familiar with the talks.

Instead, cable executives pretty much shut the door, preferring to keep Apple at a safe distance from the lucrative $150 billion pay-TV business.
The report indicates that Apple is actually pursing content deals as its primary target in the television market, with the much-rumored Apple television set being a secondary consideration for the time being. Despite resistance from content providers and cable companies, Apple is said to still be pressing forward with a number of entities including Verizon and AT&T in an effort to land at least a foothold in the television content market.
Apple was reportedly negotiating with content providers back in 2009 about developing a "best of television" package that could be distributed through the iTunes Store, but those talks failed to yield any deals and Apple reportedly abandoned its efforts for some time. But with talk of an Apple television set ramping up and the company reportedly having developed its own "new technology" for delivering video content, it seems that Apple is trying once again to find a way to make its own contributions on the content side so as to be able to control as much of the user experience on television as possible.