Thinner MacBook Pro Models in 13-Inch and 15-Inch Sizes Coming in April?
In addition to its report today about a potential 14-inch MacBook Air, DigiTimes also claims that Apple is expected to launch its thinner MacBook Pro models perhaps as soon as April. The report is a bit inconsistent in describing the timing, initially stating that the debut would be in April "at the soonest" while later simply mentioning that they are expected in April.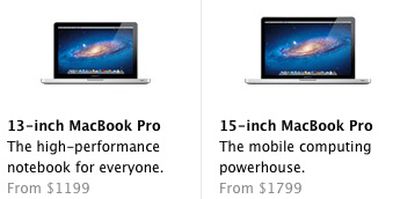 The report specifies that the redesigned models will include 13-inch and 15-inch models, but there is no word on the 17-inch MacBook Pro. Previous reports have indicated that the redesigned 17-inch model could appear slightly later than the smaller models, similar to Apple's rollout of the unibody MacBook Pro in late 2008 and early 2009.
Apple is expected to launch new MacBook Pro notebooks with an even thinner and lighter design than existing models in April, at the soonest. [...]

Apple is expected to launch upgraded 13- and 15-inch MacBook Pros in April with initial shipments estimated to reach 900,000 units.
The report also addresses claims of delays in mass availability of Intel's Ivy Bridge chips, suggesting that Apple could gain an advantage over its competitors looking to release ultrabooks, as Intel's ultra-low voltage chips destined for those machines may not arrive until June.
Chip availability for revamped MacBook Pro models is a bit uncertain, as Intel has not specifically addressed the timeline for quad-core mobile processors such as those found in the current 15-inch and 17-inch MacBook Pro. Dual-core processors such as those found in the smaller 13-inch MacBook Pro do seem to have been pushed back a bit, although it is possible that Apple could squeeze a quad-core Ivy Bridge chip into the 13-inch MacBook Pro as Intel is releasing a chip with a somewhat lower 35-watt thermal design requirement.
Even with potential delays in mass availability of new chips, Apple has on occasion received preferential treatment from Intel, a relationship that could give Apple greater access to limited initial supplies of new Ivy Bridge chips.