MLB At Bat Goes Live for 2012 With Improved Pricing Scheme
Baseball season is almost upon us and with that comes the latest edition of Major League Baseball's At Bat app, which went live this morning. The app provides baseball fans with access to live game radio and television broadcasts, MLB GameDay play-by-play service, and more.
Of course, all this isn't free. There are several service options depending mostly on if users wish to have streaming television broadcasts or are content with radio. The app itself, a universal app designed for both the iPhone and iPad, is a free download. On its own, it offers free league-wide scoreboards and limited access to news content from Major League Baseball.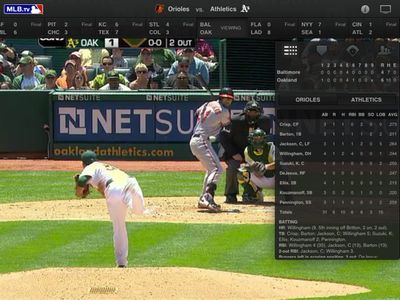 There are two main service levels, with the high-end MLB.tv Premium offering everything: live home-and-away television broadcasts for "out-of-market" games (that is, users can't watch their local team's television coverage); live game home-and-away radio broadcasts; GameDay play-by-play coverage; in-game highlights; box scores; and many, many statistics.
MLB.tv Premium can be purchased for $124.99/season or $24.99/month from the MLB.tv website. The MLB.tv login can then be used to completely unlock the iOS app, and it also allows games to be watched from the Mac or Apple TV.
New for this year is an additional MLB.tv Premium purchase option: a $24.99/month in-app subscription that gives all the same access as buying through the MLB website, but with the convenience of charging the service to an iTunes account. Across the whole length of the season, the $24.99/month charge will be more expensive than the full season charge of $124.99, but it is nice to have the option.


Also available is an in-app purchase for $14.99/season or $2.99/month that offers the same radio broadcasts and GameDay features as the full MLB.tv Premium package, but without the television broadcasts. Subscribers to this package do get one free featured television broadcast per day, as well as "live look-ins" to games when significant events happen.
Last year, MLB.tv Premium users were required to pay the $124.99/season fee, as well as buying separate iPhone and iPad apps for $14.99 each. This year, subscribers with iOS devices will save $30 by having the apps unlock automatically with a login. Additionally, MLB.tv Premium users will get access to out-of-market game broadcasts on the Apple TV. MLB tells MacRumors that the Apple TV is receiving an updated interface for 2012 as well.


Finally, MLB told us about a new "At The Ballpark" app coming on Opening Day 2012. The app will expand on the features offered in the At Bat app last year and will offer maps to concession stands, emergency exits and more at ballparks, as well as a geolocated check-in service. Individual clubs can offer seat upgrades, special offers and food discounts to app users. Some clubs even offer mobile food ordering from the app, and can deliver food right to your seat.
MLB At Bat is a free universal download from the App Store for iPhone and iPad. [Direct Link]