Best Buy Preparing for iPad Updates with $50 Price Cut, Inventory Cuts
Potentially signaling its belief that the launch of the iPad 3 is imminent, Best Buy is now offering $50 discounts across the entire line of iPad 2 models, with pricing now beginning at $449.99 for the 16 GB Wi-Fi model.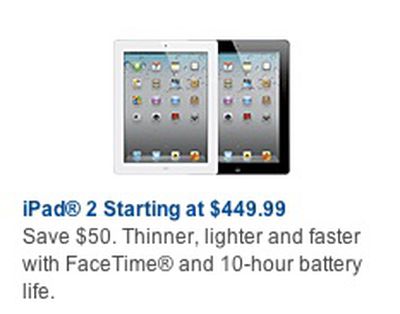 Furthermore, Engadget reports that Best Buy has begun updating its internal inventory management systems to reflect a "deleted" status for iPad 2 models.


Best Buy generally does not have advance notice of new Apple products, especially those that are anticipated to appear as part of a major media event. Consequently, Best Buy's moves should not be taken as specific indicators of an iPad 3 launch, although numerous sources have indicated that a debut is near, with March 7 rumored for the planned media event.
But Best Buy certainly appears to be adjusting its offerings to make way for the updated model, and the company is not alone in that regard. Grocery and retail store chain Meijer earlier this month offered the entry-level iPad for $429, a $70 discount from the regular retail prices. Meijer's pricing has since returned to normal, but indications are that retailers are anticipating the arrival of the iPad 3.