Apple 'Working With' True Knowledge to Address Concerns Over Evi's Similarities to Siri
Last month, we reported on Evi, an app from True Knowledge that offered some of the same features as Apple's Siri. While Evi lacks the system-level integration of Siri on the iPhone 4S, it does offer greater information content and expanded device compatibility.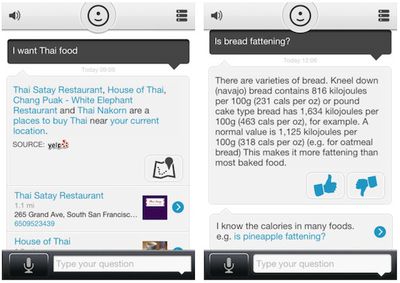 TechCrunch reported yesterday that Apple has now contacted True Knowledge with the suggestion that it will soon remove Evi from the App Store for duplicating Siri's functionality and confusing customers.
On Friday evening True Knowledge had a call from Apple representative Richard Chipman. (If you Google Richard Chipman's name you'll find he is also the Apple rep that does the controversial calls about apps).

He told True Knowledge that Apple was "going to pull Evi from the appstore" as it was similar to Siri.

The rule being cited is number 8.3 in the App [Store] T&Cs" "Apps which appear confusingly similar to an existing Apple product or advertising theme will be rejected".
The publicity has caused a spike in Evi's sales rank as users have sought to purchase the app before it disappears, but The Verge now reports that Apple is not planning on removing the app from the App Store. Instead, Apple is said to be "working with" its developers to reduce potential confusion with Siri.
Despite what True Knowledge told TechCrunch, the app remains in the App Store, and according to sources familiar with the matter, Apple is attempting to work with the developers on bumping out those similarities, rather than just pulling the product. It's apparently standard practice these days for Apple to flag something that could be confusing to end users and then try to work with developers to alter the appearance and / or functionality of the app, and we're told that's taking place with True Knowledge right now.
It remains to be seen just what changes to Evi will come out of these discussions between Apple and True Knowledge, but it seems clear that Apple is concerned about Evi's parallels to Siri.