Apple and Proview Face Off in Shanghai Court Over iPad Trademark
While Proview has had some success in its battle against Apple's use of the "iPad" trademark in China with minor court decisions against local retailers, the two companies are now going directly head-to-head in a higher-profile case underway in Shanghai. There has been no decision in the case yet, but lawyers for both sides spent four hours today laying out their evidence for the presiding judge. Reuters notes that Apple has gone on the offensive by citing the impact on the Chinese economy if iPad sales were to be halted, given the iPad's massive popularity and Proview's current lack of any product offering under that name.
"Proview has no product, no markets, no customers and no suppliers. It has nothing," Hu Jinnan, a partner at Guangdong Shendadi law firm, which is representing Apple in the case, told the court.

"Apple has huge sales in China. Its fans line up to buy Apple products. The ban, if executed, would not only hurt Apple sales but it would also hurt China's national interest."
Apple's tactics of highlighting the economic impact of the iPad and calling into question the validity of Proview's trademark given a lack of physical product using the name are side arguments to its primary claims, which hold that Proview agreed to transfer the rights to an Apple-held company in late 2009 and has failed to uphold its part of the deal.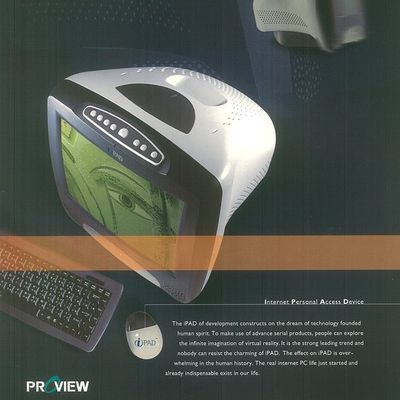 Proview's iPAD, sold from 1998 until 2009 (Source: The Wall Street Journal)
A Hong Kong court
sided with Apple
last year, ruling that Proview and its subsidiaries had colluded to extort significant sums of money from Apple in refusing to hand over the Chinese rights to the trademark. But Apple needs to convince courts in mainland China to adopt the same view as it seeks to thwart Proview's attempts at halting iPad sales and its requests for as much as $2 billion in compensation. Proview has argued that the Hong Kong ruling is inadmissible in Chinese courts, although Apple could presumably submit the same primary evidence to the Chinese court that it did in the Hong Kong case, seeking to convince the Chinese judge to independently come to the same conclusion.