Apple Beginning Independent Environmental Audits of Chinese Suppliers' Facilities
While Apple's partnership with the Fair Labor Association to conduct independent audits of working conditions at factories in Apple's supply chain has been gaining headlines in recent weeks, USA Today reports that Apple is also gearing up for independent environmental audits of several suppliers. The news comes as Apple yesterday released its annual environmental report, touting a number of new initiatives and improvements, including significant investments in alternative energy at its new North Carolina data center.
Ma Jun, founder of the Institute of Public & Environmental Affairs, told USA TODAY in a phone interview Monday that Apple agreed to the independent reviews in late January in response to two reports that IPE and other environmental groups released last year documenting hazardous-waste leaks and the use of toxic chemicals at suspected Apple suppliers.

The reviews, which could begin in March, will start with two suppliers but might expand to others, said Ma, one of China's leading environmental activists.

Linda Greer, Washington-D.C.-based director of the National Resources Defense Council's health program, said Apple agreed to allow environmental groups to examine at least two of the 14 suppliers that Apple did environmental audits on last year. Apple has promised the groups access to the factories, she said. The reviews will focus on environmental issues, such as whether Apple suppliers are discharging toxic waste into the water supply and soil.
Apple is reportedly also working with the IPE's database of environmental violations in China, using the data to help monitor current supply chain partners and evaluate potential new ones.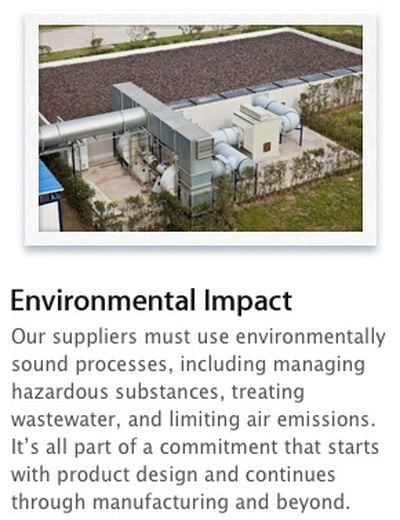 Apple is said to be looking to add a similar level of transparency to its environmental auditing as it is deploying for audits of working conditions, seeking to make the results public and naming the audited suppliers once they have had an opportunity to address any deficiencies.