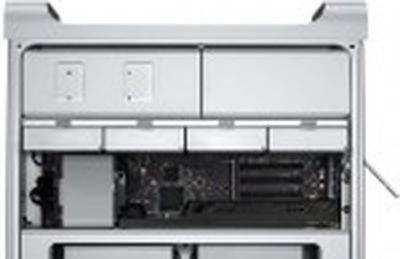 M.I.C gadget reports that it has received information from sources indicating that Apple is "close to finally updating" its aging Mac Pro line. As we detailed in a report last month, the window for a potential Mac Pro update is approaching as Intel prepares to launch its Sandy Bridge E Xeon processors and AMD is pushing out its new "Tahiti" family of graphics cards.
But M.I.C gadget reports that Apple may be planning to switch back to NVIDIA for its stock graphics options in the next Mac Pro instead of sticking AMD as on the current models. The move, which would line up with a rumored similar shift for the MacBook Pro, could open the door to improved performance on a number of applications such as those from Adobe that embrace NVIDIA's CUDA architecture.
Nvidia has their "Kepler" platform due out around the same time as Intel is making their changes, and our sources within the company indicate that they have chosen to have Nvidia lead the charge so to speak on the graphics front. This is good for all our compatriots who want to use the special graphics engine in Adobe products, as it supports Nvidia only, or for those who wish to do CUDA based programs as well, again only supported by Nvidia.
The report cites "rumblings" that Apple may be targeting a Mac Pro update "near the end of quarter three", although that timeframe may be subject to change. The report's definition of "end of quarter three" is a bit unclear, as that would equate to September as measured by calendar quarters or June as measured by Apple's fiscal calendar. But with Intel pushing out Sandy Bridge E chips in "spring" and NVIDIA reportedly launching Kepler in April, Apple would likely be able to follow fairly closely on the heels of those releases with a Mac Pro update if it elects to do so.
But curiously, the report also claims that Apple will be looking to jump directly to Ivy Bridge, Intel's successor processor family to Sandy Bridge, for the revised Mac Pro. Intel's Sandy Bridge E processors have seen significant delays but are now close to shipping, and it is unclear how Apple's Mac Pro plans would line up with any Ivy Bridge server chip plans from Intel.
Unfortunately, M.I.C gadget does not have a terribly accurate record on hardware rumors, particularly on the Mac Pro front where last year the site was one of those sources claiming that Apple would issue a mid-year Mac Pro update using a custom processor from Intel. So while a switch to NVIDIA for graphics cards in the next Mac Pro may make sense given the timeline for availability on NVIDIA's Kepler lineup, we hesitate to place too much faith in this report's claims for the time being.