AT&T Rolling Out LTE Micro-SIM Cards, Sparking Speculation on iPad 3 Link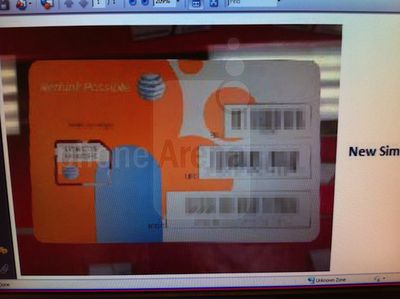 Phone Arena reports that AT&T has begun supplying its retailers with LTE-compatible micro-SIM cards, requesting that existing micro-SIM stocks be scrapped in favor of the new ones supporting the latest networks offering faster data speeds. The obvious explanation for the shift is the launch of the Nokia Lumia 900 next month, but speculation naturally also turns to Apple's plans for its upcoming devices.


Phone Arena suggests that the LTE-enabled micro-SIM cards could eventually be used in the iPhone 5, but the much nearer term launch for Apple is the iPad 3, which has been rumored to offer support for LTE. So while the new micro-SIM cards may not be appearing solely for the iPad 3, it is interesting to note that they are now available on AT&T should Apple launch an iPad 3 with LTE capabilities.
Update: AT&T spokesman Seth Bloom notes that the Pantech Breeze and Element already utilize the LTE micro-SIM card on the carrier's network.