Microsoft Lays Out Plans for Windows on ARM Processors
Back in September, we covered Microsoft's announcement of Windows 8, the next step in the operating system's evolution that seeks to encompass not only traditional PCs but also mobile devices running on ARM processor architecture.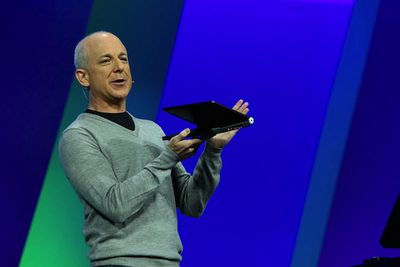 Microsoft's Steven Sinofsky showing off prototype Windows 8 hardware at September's BUILD conference
Steven Sinofsky, president of Microsoft's Windows division, today issued a
massive blog post
laying out in more detail how the company plans to tackle Windows on ARM (WOA). Sinofsky notes upfront that WOA will be a new member of the Windows family, based heavily on Windows 8 but customized for the flexibility that users will see in ARM-based systems in both traditional PC and mobile form factors.
With Windows 8, we have reimagined Windows from the chipset to the experience—and bringing this reimagined Windows to the ARM processor architecture is a significant part of this innovation. Expanding the view of the PC to cover a much wider range of form factors and designs than some think of today is an important part of these efforts. Windows on ARM enables creativity in PC design that, in combination with newly architected features of the Windows OS, will bring to customers new, no-compromise PCs.
WOA will be focused on Microsoft's "Metro" touch interface for Windows 8, but will also support a limited "desktop mode" that will more closely resemble traditional Windows and which will support versions of Microsoft's Office applications optimized for the ARM architecture to provide touch support as well as minimization of power and resource consumption.
Microsoft will also be following Apple's App Store model with Windows on ARM, with application distribution occurring solely through the Windows Store. Existing Windows apps will have to be completely rewritten to be compatible with WOA, but developers will be able to write for both WOA and the more traditional Windows 8 simultaneously if they wish.
Microsoft has been working closely with a variety of hardware and peripheral partners to ensure tight integration between hardware and software for WOA systems, and the company intends to ship WOA simultaneously with the Windows 8 launch. As Bloomberg notes, Microsoft will be helping push work on WOA forward by providing select developers with test machines running WOA on chips from Qualcomm, Texas Instruments, and Nvidia. That developer program is set to go live with the next round of Windows 8 beta testing at the end of the month.
The ARM architecture is of course the basis for Apple's iOS products, as well as many of the other most popular mobile devices on the market. Microsoft has lagged behind in the push for mobile as its Windows Phone operating system has failed to catch on with consumers and its tablet efforts have stalled. In recognizing that the ARM architecture will help enable the next generation of increasingly portable devices, Microsoft is hoping to tie into its existing strength with traditional Windows to generate momentum in the touch-enabled and mobile markets.