Genius Recommendations for Movies and TV Shows Appearing on Apple TV
Several Apple TV users have reported a new addition to the menus of their devices, with the new option bringing Genius recommendations for movies and TV shows in their libraries. Curiously, early reports noted that rather than carrying a correct menu title, the movie option carried the name "ATV.Menu.MOVIE.GeniusItem", suggesting that the new feature may have appeared prematurely. Apple seems to have fixed the issue, however, with the menu option now showing properly as "Genius".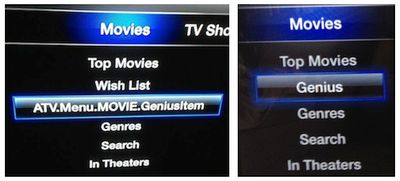 Improperly-displayed (left, via @cthielen) and properly-displayed Genius option for Movies on Apple TV
Despite the strange display of the menu option, the feature does appear to have been functional since its initial appearance yesterday, with users being able to access Genius recommendations for their content.

Genius movie recommendations on Apple TV (via @benfurneaux)
Genius recommendations for movies and TV shows have been offered for some time in iTunes itself through the iTunes Sidebar, but those recommendations have not been available on the second-generation Apple TV. Genius recommendations are also available through the iTunes app on iOS devices.