As the Mac becomes more popular, the arrival of A-List titles to the platform is beginning to become a more common occurrence. The latest top-shelf game to hit the Mac is Id Software's RAGE, which has gone live both on the Mac App Store [Direct Link] and on publisher Aspyr's GameAgent online store.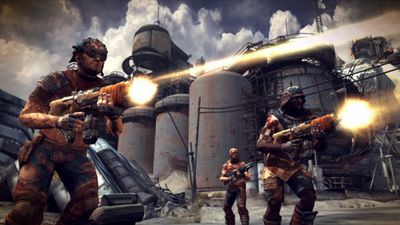 The game takes place more than 100 years after the impact of an asteroid destroys most life on earth. The player awakens after being frozen in cryo-stasis without any memory of who he is or what he is supposed to do. The game plays out in a world similar to Mad Max and the like, with the player fighting enemies, making allies, and trying to find his place in an utterly wrecked planet.
Potential purchasers should note that the game is titled the "Campaign Edition" because it only includes the single player campaign, not the multiplayer components. Priced at $39.99, the well-reviewed post-apocalyptic shoot-em-up has some hefty system requirements, asking for at least OS X 10.7.2 and an Intel Core 2 Duo and a long list of graphics cards -- most significantly, however, integrated video chipsets are not supported.


RAGE: Campaign Edition is $39.99 on the Mac App Store and weighs in at nearly 13GB. Purchasers are strongly encouraged to double check their system requirements before purchasing. [Direct Link]