Apple's 1.3 MP Camera-Equipped iPod Nano Due for Launch in March/April? [Updated]
Earlier today, we reported on new photos of an iPod nano casing that appears to support a rear-facing camera. With similar photos having shown up in the past, it was unclear whether Apple was still pursuing the design for a future iPod nano.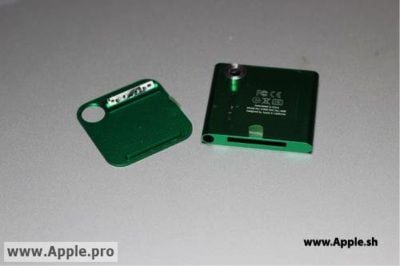 M.I.C gadget now weighs in with claims that the pictured device is in fact a two-month old prototype but that Apple has been having difficulties with the 1.3-megapixel camera taking overexposed photos.
It's real, and it's a two-month-old prototype that has big problems. It comes with an auto iris lens that can be affected by diffraction and blurring when the iris opening becomes too small in bright conditions. Ok, I gotta say it simply, it takes overexposed photos.

According to our factory sources, Apple have problems with the lens aperture for the next-gen iPod nano, the iris is not functioning correctly to allow the advantages of the low aperture to be utilized.
Interestingly, the report claims that the user interface for the camera features is finished and that Apple is looking to launch the device late this quarter or early next quarter once it finishes working out the camera issues.
The release would be a significant deviation from Apple's usual iPod refresh timeline, which has typically seen updates come in the September-October timeframe. But with Apple shaking up its schedules in 2011 by pushing the iPhone back from its usual June release to take the iPod's place with an October debut, it is possible that other changes to the usual timeline are in store.
The iPods saw only very minor changes last October, with the iPod touch essentially gaining only a white option and a price drop while the iPod nano saw a price drop and a software update that was also compatible with the previous year's model. The iPod shuffle and iPod classic received no updates at all, making Apple's 2011 iPod updates by far the most modest in the company's history. Consequently, Apple could be looking to make more substantial changes to its iPod line, such as the release of a camera-equipped iPod nano, well ahead of the fall 2012 timeframe.
Update: Refuting M.I.C gadget's claim that the iPod nano shown in the photos is a two-month old prototype, Apple.pro's Anthony Tsai posts this screenshot showing that the photos were in fact originally posted to the Internet in August 2011: