Apple Updates Final Cut Pro X with Multicam Support, Advanced Chroma Keying, and XML Support
Following up on promises to bring support for major features such as multicam editing and XML compatibility, Apple today announced the launch of Final Cut Pro X v. 10.0.3 with a number of enhancements. The release follows another major update released last September and another minor one released in November.
Apple today released Final Cut Pro X v10.0.3, a significant update to its revolutionary professional video editing application, which introduces multicam editing that automatically syncs up to 64 angles of video and photos; advanced chroma keying for handling complex adjustments right in the app; and enhanced XML for a richer interchange with third party apps and plug-ins that support the fast growing Final Cut Pro X ecosystem. Available today as a free update from the Mac App Store, Final Cut Pro X v10.0.3 also includes a beta of broadcast monitoring that supports Thunderbolt devices as well as PCIe cards.
Apple also notes that several third-party developers have also taken steps to expand the capabilities of Final Cut Pro X, including the new release of 7toX [Mac App Store, $9.99] from Assisted Editing to move Final Cut Pro 7 projects to Final Cut Pro X.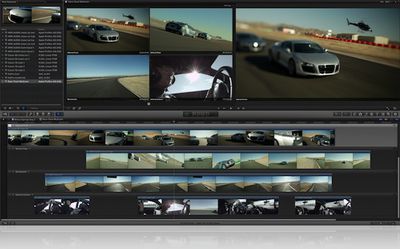 Multicam editing in Final Cut Pro X v.10.0.3
Final Cut Pro X
[
Mac App Store
] is available in the Mac App Store and is priced at $299.99. The new 10.0.3 update appears to still be rolling out to the store and may not be available for all users yet.
- Multicam editing with automatic sync and support for mixed formats, mixed frame rates, and up to 64 camera angles
- Advanced chroma keying with controls for color sampling and edge quality
- Media relink for manual reconnect of projects and Events to new media
- Ability to import and edit layered Photoshop graphics
- XML 1.1 with support for primary color grades, effect parameters, and audio keyframes
- Beta version of broadcast monitoring with third-party PCIe and Thunderbolt I/O devices
Update: Apple has also released Motion 5.0.2 [Mac App Store, $49.99], bringing several enhancements to the effect editor that serves as a companion to Final Cut Pro.
- Improved speed and responsiveness of text editing
- Ability to automatically add animation keyframes when recording is disabled
- Keyboard shortcut for re-positioning animation curves or paths
- Ability to adjust the pan and scale of an image in a drop zone
- Enhanced look of the Keyframe editor for easier keyframe viewing and editing
Update 2: The updated version of Final Cut Pro X [Mac App Store] is now available. Apple has also released Compressor 4.0.2 [Mac App Store, $49.99], an update to the Final Cut Pro tool for project export.
- Markers set as chapter markers by default
- Addition of Uncompressed 8-bit and 10-bit 4:2:2 to export settings list
- Improved speed of transcoding from Uncompressed 10-bit 4:2:2 to ProRes