Macworld 2012: WDC Shows Off MyBook Thunderbolt Duo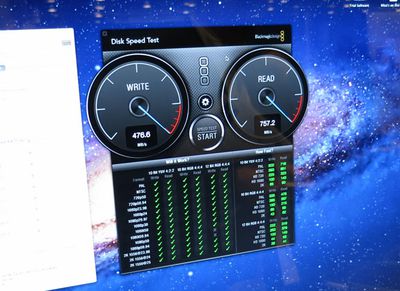 We briefly mentioned WDC's press release that they would be showing their new MyBook Thunderbolt Duo at Macworld. Here are photos from the show floor of the unit. As expected, the new drive shares the same appearance as their previous two drive MyBook hardware.
This new model, however, incorporates two Thunderbolt ports that allows the units to be daisy chained with each other to create a single logical drive.


At the show, WDC was showing 4 devices daisy chained with Thunderbolt in a striped configuration. Each MyBook Thunderbolt Duo had two 3TB drives, giving a total capacity of 24TB that appeared on the desktop as one contiguous 24TB device.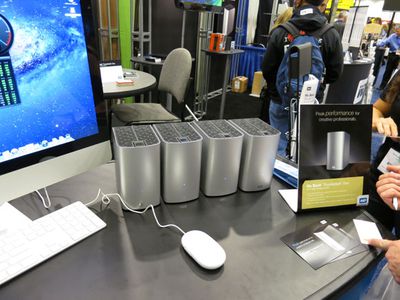 The individual drives within each unit are user serviceable/replaceable and can be configured in either RAID 0 or RAID 1 configurations. The product will be available this quarter with pricing to be announced then.