Holiday Gifts Drive New iOS Device Activations Sharply Higher
While it seems obvious that the holiday gift-giving season is a strong driver for iOS device sales, as evidenced in part by past history and Apple's forecast of a blockbuster quarter, it is generally difficult to quantify that holiday boost before Apple reports device sales as part of its quarterly earnings or makes public statements about App Store milestones.
A couple of analytics firms have, however, put out reports today seeking to offer some measure of the bump in demand for iOS devices and those of competing platforms such as Android.
According to Flurry, both iOS and Android saw a "massive influx" of devices registering on the firm's servers, coming in through the over 140,000 apps using Flurry Analytics. Data collated by Flurry shows that combined new device activations for iOS and Android rose from an average of 1.5 million per day during the first three weeks of December to 6.8 million devices on Christmas Day, an increase of 353%. This compares to a total of 2.8 million new devices detected on the previous record-setting day of Christmas 2010.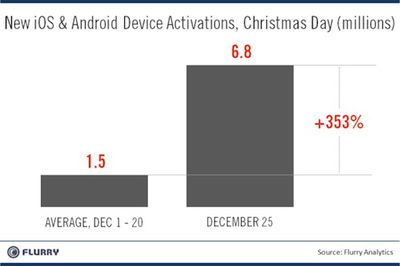 All of those new device activations also drove increased App Store activity, with Flurry measuring an increase of 125% in iOS and Android app downloads on Christmas Day compared to the early December baseline. Flurry's data shows that the 242 million app downloads on Christmas Day spiked from an average of 108 million per day during the first three weeks of the month. Flurry notes that the increase in app downloads is smaller than that for new device activations on a percentage basis due to the higher baseline from apps being installed onto the already-large installed base of devices.
Illustrating how different analytics firms can see somewhat different patterns due in part to what data is used for baseline purposes, Localytics issued a report showing iOS device activations coming in more than 12 times higher during the holiday weekend than they did during previous weekends. The increase was over 15x for iOS devices as a whole in the United States, with the iPod performing strongly at a 21x increase due to the relative lower cost and lack of service contract, factors which make them relatively more popular as gifts than iPhones or iPads.


Comparing iOS to Android, Localytics found that Android also grew at approximately 12.5x over baseline. Localytics also looked at country-by-country comparisons, showing iOS outpacing Android in terms of growth in the United States, Germany, and the UK, while Android performed better in most of the other top countries.