Australian developer Firemint, acquired by Electronic Arts earlier this year, has moved its highly-acclaimed iOS game Real Racing 2 to the Mac, launching the title in the Mac App Store.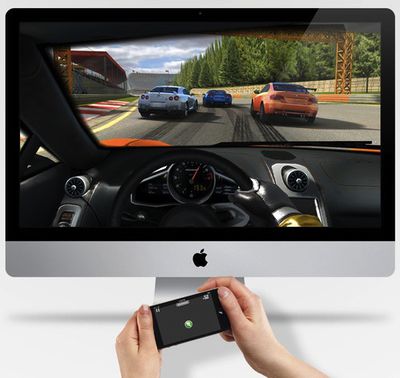 Among the notable features of the Mac version is the ability for owners of iOS versions of the game to control the Mac version using the touch and tilt capabilities of their mobile devices.
- Test your racing prowess on a 16 car grid against highly skilled AI drivers.
- Select from 30 officially licensed cars including the 2010 Ford Shelby Mustang GT500, 2010 Nissan GT-R (R35), 2012 McLaren MP4-12C, and more!
- Work your way from rookie to pro in a robust Career Mode, offering 10 hours of racing enjoyment. Jump into a Quick Race for instant fun – or battle against the clock in Time Trial Mode.
- Race in 15 beautiful locations, with 40 miles of highly detailed race tracks, speedways and city circuits – including twilight and night races.
- Touch or tilt to steer with your iPhone, iPad – or Mac controls. This innovative control system lets you customize options to fit your personal driving style.
- Experience the intensity of head-to-head racing with 5 unique camera angles and breath-taking graphics powered by Firemint's exclusive high performance Mint3D™ engine.
- Purchase Real Racing 2 currency to progress even faster!
While the iPhone control is not a unique feature given that other titles like Chopper 2 have had such functionality for some time, Real Racing 2 is a popular iOS game and will no doubt attract fans on the Mac platform as well.
Real Racing 2 for Mac is priced at $12.99.