Apple Rolls Out 'Complete My Season Pass' for TV Shows
While Apple has long offered a "Complete My Album" feature in the iTunes Store to allow users who have previously purchased individual tracks to upgrade to the full album at a discounted price reflecting their single-track purchases, users have not had the flexibility of a similar option for TV shows.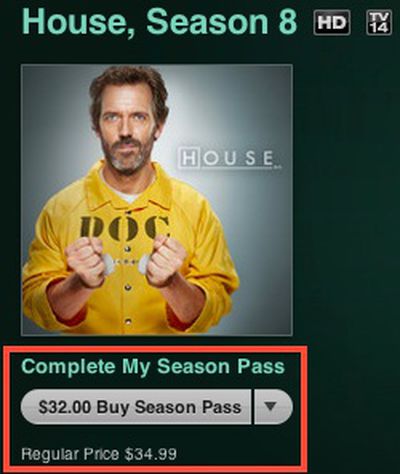 That appears to have changed this week with the addition of a "Complete My Season Pass" feature now available in the iTunes Store. When logged in and viewing an iTunes Store page listing for a single season of a TV show, the Season Pass purchase price will be reduced by the amount of previous single-episode purchases, allowing users to upgrade to the full season without having to essentially repurchase the episodes they had previously acquired individually.
Season passes for TV shows typically come at a significant discount compared to buying each episode of the season individually. Consequently, the new Complete My Season Pass feature should offer users who find themselves having already purchased several episodes of a season and wishing to upgrade to the full season a way to save some money.
(Thanks, Charles!)