iTunes Match Goes Live Internationally (For Real This Time)
Following last night's premature access to iTunes Match some users in international markets were able to achieve through their iTunes Store account pages, the service now appears to officially be going live in several countries.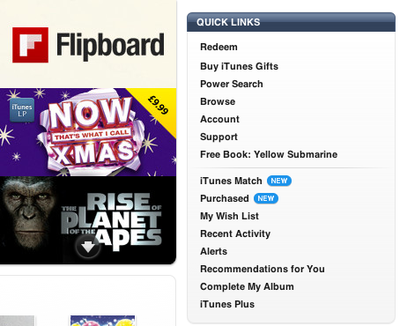 iTunes Match link on front page of UK iTunes Store
MacRumors
readers in a number of countries have been reporting over the past few hours that they are being presented with
updated terms and conditions
for the iTunes Store mentioning iTunes Match. And now prominent links to iTunes Match have appeared on the front page of the iTunes Store in at least Canada, Ireland, Mexico and the United Kingdom.
Users in those countries are reporting successful sign-ups for the service, and we're waiting to hear confirmation on whether it is indeed fully functional at this time.
Update: We're also receiving reports of iTunes Match links going live on iTunes Stores in Australia, France, New Zealand, and Spain.
Update 2: Users are reporting that the iTunes Match does appear to be working in the new countries, with subscribers' libraries being matched.

Canadian user's library being matched